Dal Description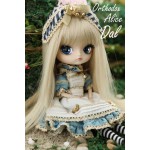 What's Dal?
DAL is TAEYANG's 13-year-old little sister. She adores her brother TAEYANG. Sometimes jealous, DAL considers Pullip her 'RIVAL' since Pullip is her brother's girlfriend. Although this jealously is apparent, DAL is typically sentimental and tender. She attends school and is a member of their Tennis Club. DAL has a blog that is really popular among teenagers which has many fans. DAL is fully articulated with eyes that move back & forth. Her eyes do not open and close like Pullip and TAEYANG. She stands about 9 inches tall. Her best friend is Byul and her name DAL means ''Moon' in Korean.
Profile
Nationality: Korean
Age: 13 (February, Aquarius)
Blood Type: AB
Present Address: Milano, Italy
School: International Korea middle school in Milano
Club: Tennis
Hobby: Drawing illustrations and adding them to her popular blogs.
Personality: very sentimental and tender
Favorite Food: Korean food "My best friend Byul's mom cooks Korean food for me and it's the best, I love it!
Boy Friend: I haven't seen anyone cooler than my brother! One day I will meet someone like him!
Family members
Father: British, an owner of collectible and expensive musical instrument shop
Mother: Korean, well-known architect.
Brother: TAEYANG
Specifications
Size: About 9inches
Package: Window Box
Material: HIPS ABS ATBC-PVC and Dress Material
There are no products to list in this category.