Pullip Description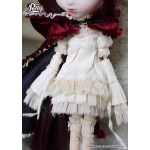 What's Pullip?
Pullip is a stylish collectible fashion doll that expresses every girl many faces = ''Today's Feeling… (from her hair style, make up and fashion etc…). Pullip is extremely attractive! She stands about 12 inches tall, has a large head, big eyes that can wink and look side-to-side, along with fully articulated joints that enable her body to pose (36 parts that can move). Pullip means 'Young Leaf' in Korean. Pullip Father is a diplomat and her mother is an interior designer, also she has little brother and they are a friend-like sister and her boyfriend is TAEYANG. Her name Pullip means, ''Leaf (young)'' in Korean.
Profile
Nationality: Korean
Age: 17 (May, Gemini)
Blood Type: O
Present Address: Milano, Italy
School: Private high school in Milano Member of a big-band, which plays swing music. Also participates in high school's drama club. Scuba diving, watching movies & musicals, shopping, hosting parties and photography.
Personality: Active, positive, sociable, extroverted, cheerful; "I enjoy a luxurious life".
Favorite Food: Seafood, Italian-Korean mixed fusion food, like kim-chi pilaf. "I love my fathers cooking of Korean Bibim-bab".
Favorite Books: Fashion & home décor magazines.
Fashion Style: Unique. "I have my own style that is special and fashion forward. I'm always ahead of the scene".
Future Plan: I've got many things that I will be doing. I am the master of my fate.
Ideal Type: A cool guy. ''I like cheerful, active and gorgeous guys, but right now I am in love with my boyfriend TAEYANG.
Boyfriend: TAEYANG (her ex-boyfriend was Namu)
Family Member
Father: A Korean diplomat that worked Italy, where he met Pullip's Mother.
Mother: Italian, an interior designer
Brother: Name is ISUL, whom is studying abroad in USA, San Francisco.
Pet: Dog/Terrier
Specifications
Size: about 12inch
Package: Window Box
Material: HIPS ABS, ATBC-PVC, Dress Material
There are no products to list in this category.