Taeyang Description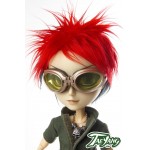 What's Taeyang?
TAEYANG is Pullip's boyfriend. He is a handsome young man that is fully articulated with eyes that move back & forth and wink. He stands about 14inches. TAEYANG means 'Sun' in Korean. DAL is his little sister.
Profile
Nationality: Korean
Age: 21 (October, Libra)
Blood Type: O
Present Address: Milano, Italy
School: Musical Composition Major at a Music College in Milano.
Hobby: Photography and Video.
Personality: Always cool yet burns with passion.
Fashion Style: Trendy Casual style; ''My look is inspired by music''.
Girl Friend: Pullip
Family members
Father: British, an owner of collectible and expensive musical instrument shop.
Mother: Korean, well-known architect.
Little Sister: DAL
Specifications
Size: About 14 inches
Package: Window Boxd
Material: HIPS ABS ATBC-PVC and Dress Material
There are no products to list in this category.