Byul Description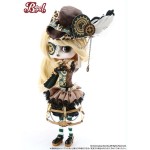 What's Byul?
Byul is DAL's best friend. She is 13 years old and was born in Italy. Byul does not speak Korean so well. Like DAl, she is at a Korean school in Milano and she is the assistant manager of the schools Tennis Club. She loves cute, feminine types of clothing. She has a big crush on ISUL (Pullip's Little brother). She secretly makes presents for ISUL (DAL does not know). Her dream is to become a beautiful bride. She is fully articulated with eyes that move back and forth. Her eyes do not open and close. She stands about 9 inches. Byul means ''Tear'' in Korean.
Profile
Nationality: Italy ("my mother is Korean, but I'm having trouble learning the language. I'm trying my best")
Age: 13 (December, Sagittarius)
Blood Type : Strawberry
Present Address : Milano, Italy
School: Middle school.
Club : the Tennis club
Hobby: Making Presents. ''My room is full of the presents that I made for Isul."
Personality: innocent and delicate.
Favorite Food: Korean food which her mom cooks.
Fashion Style: ''I love dresses trimmed with lace like ''Loli'' and all of those dresses are made by my mom who is very clever with her fingers.
Dream: a beautiful bride
Ideal Type: a guy who is nice, sensitive and careful, like ISUL.
Best Friend: DAL
Family members
Father: Italian, a tennis coach who runs a famous tennis club
Mother: Korean, a professional chef; she is trying to introduce and expand Korean Food in Italy now.
Specifications
Size: About 9inches
Package: Window Box
Material: HIPS ABS ATBC-PVC and Dress Material
There are no products to list in this category.